<![if !vml]>

<![endif]>
<![if !vml]>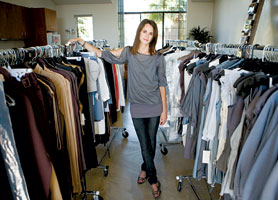 <![endif]>Former Armani
designer Mary
Beth Larkin
fashioned her
company name,
eMBe, on a
nickname given to
her by friends.
South Coast couture –
Designer finds life after Armani
By Barbara Pearson, Staff Writer
October 1, 2007
Note: Mary Beth is Graduate Dottie Milici's daughter!
Fashion designer Mary Beth Larkin seeks global domination in casual chic.
Larkin is the founder, president and majority shareholder of Santa Barbara-based eMBe Group, a women's apparel company that, after less than three years in operation, is available in 65 stores throughout the country including Barneys New York, Intermix and Henri Bendel. Larkin's designs  meant to be both stylish and practical  retail for about $68 to $300.
My goals are lofty," Larkin said. "I want to be completely global and really saturate … the whole world. I want to be able to have $10 million in sales and at that point, I want to get investors and grow it to be a multi-million dollar company, and I'd like to sell it for $200 million."
Larkin said although she is still experiencing the "consistent ups and downs" of a start-up company, the business has been more successful than she projected. She expects to reach her goal of $10 million in sales in the next three to five years.
Following her graduation from the Fashion Institute of Technology in New York City, Larkin landed an internship with Armani Exchange and spent the next seven years working her way up in the ranks, ultimately to senior designer of women's knits. While in that post, the division grew from $7 million to $20 million annually and became the most profitable division of the women's lines, Larkin said.
I decided, instead of making $20 million for them, I wanted to do it for myself," Larkin said. "I really love what I do, it's definitely my passion, there's nothing I'd rather do. I'm so determined and love it so much, I figured instead of somebody else feeding off my work ethic, I might as well."
Larkin moved to the Santa Barbara area to be near her family, who had all previously migrated from the East Coast. Larkin utilized the resources of the nonprofit, Women's Economic Ventures, to write her business plan, secured a live-work loft in Carpinteria and flew to Hong Kong to secure a factory to manufacture her line.
She started eMBe in January 2005. Since designers work a year in advance, her first collection came out in fall 2006. Larkin said that although the business aspect of owning an apparel company is not her strength, it has broadened her capabilities.
I'm learning more than I thought I possibly could," she said. "You always just end up walking through all the challenges, which I think is probably the most exciting part of starting your own company."
But Larkin warns that the fashion industry is no walk in the park. At Armani, it was common for her to work 12 hours a day, including weekends. As an intern, she was paid $25,000 per year and often worked 90-hour weeks. In addition, the turnover rate was extremely high because the designer had its pick of new applicants, so she was constantly kept on her toes.
It's very cutthroat. There's nothing glamorous about the industry," Larkin said. But I would say if anybody wants to get into it, they better be 100 percent passionate about it because that's really the only way it would be worth while."
Now that Larkin works for herself, she said she works "as many [hours] as it takes."
When you have a start-up business, you're just working all the time," she said. I'm just now trying to have some kind of balance in my life where I'm making time to meet people and do things with my friends. The past two years have been really focused and determined on succeeding."
With an impressive resume, a strong business plan and a successful fashion line that continues to grow in popularity, Larkin will achieve greatness, in style.
-30-